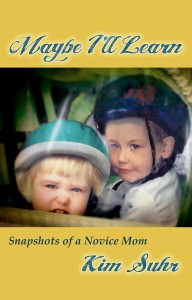 Available in Paperback and on Kindle
Introduction
At the risk of harkening back to "the good old days," which I'm assured weren't necessarily all that good and had plenty of conveniently forgotten down sides, I have to say, people of my Baby Boomer parents' generation had it easy. Get married. Have kids. No decision. No debate. Kids came or they didn't, a natural part of life that required no deliberation about if, when or how. The pondering for my husband, Rob, and me lasted nearly nine years at which time we realized we'd never feel grown-up enough to raise children and had better get on the stick before biology made the decision for us. This was obviously not an issue for my parents who had barely stepped over the threshold of twenty when I arrived, nor for Rob's who had four in the nest before his dad turned thirty.
Knocking on the door of what the medical community refers to as Advanced Maternal Age (thirty-five to regular people), I was expecting my first baby, reading the What to Expect books and trying to make sense of the various parenting approaches to which we might ascribe: Attachment Parenting, the Hands-Off Approach, Brazelton's Touchpoints®, Love & Logic® (Helping Raise Responsible Kids Since 1977™!) and something called Concerted Cultivation. I'm sure my twenty year-old mother would have laughed herself silly at the list, perhaps even at the thought of using the word, "parent," as a verb.
For her, it was simple: spare the rod, spoil the child. Or, if you wanted to get all fringey about it, you could follow Dr. Benjamin Spock's radical advice to be flexible and affectionate with your children and treat them as individuals. If something went awry with kids, sure, their parents were blamed but mostly in the apple-don't-fall-far-from-the-tree sort of way, not in the Bad Parenting sort.
My generation, on the other hand, found a whole slew of ways to make parents like me hold ourselves to unrealistic notions of how to rear perfectly-adjusted, self-assured children who would reach not only their own potential but exceed the collective potential of all children for a three-mile radius. We were seduced by an entire line of DVD's, books and toys named after history's great geniuses: Baby Mozart. Baby Einstein. Baby Bach. For all I know they're still making these products. Only now, parents can probably buy an interactive, voice-activated Baby Steven Hawking app for baby's first iPad.
Even being a stay-at-home parent was a simpler matter in the good old days. My mother wasn't, in the words of our tax preparer, "making an expensive decision to cut the family income in half." She and my dad hardly felt the loss of income when she stayed home from her office job at the insurance company. Now there's a silver lining to the income inequality of 1965.
By contrast, I'd had the great fortune of a university education (Thanks, Mom and Dad!), an income on par with my husband's (Thanks, Teachers' Union!) and the opportunity to spend a few years out of the work world to raise our children (Thanks, Rob!). At the same time, I was under self-imposed pressure to Do It Right!™ (That's my trademark. You can't have it.) And plenty of books and other mothers were eager to give me advice on how. Not my mom, though. She was happy to let me make my own mistakes with nary an "I told you so" in all these years.
Surely people of her generation will read these snippets of my early days of motherhood and wonder what all the fuss was about. I imagine, mothers (and probably fathers) of my own generation will see a bit of themselves in these pages: the strong desire to Do It Right!™ accompanied by a litany of voices telling them just how.
I hope, however, they also share the recognition that, when it comes down to it, generally happy kids who make it to the end of the day without a crayon lodged in their nostril and their underwear still where it belongs, underneath their clothes, are often the best we can do.
For the record, on those two counts, I'm still batting a thousand.
Kim Suhr
2012